Webinars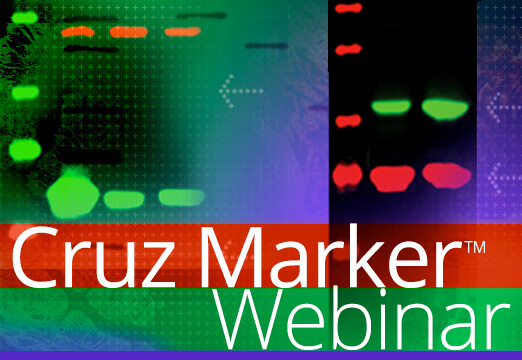 Santa Cruz Biotechnology, Inc. will host an informational webinar highlighting ONE STEP WB detection using Cruz Markers in combination with conjugated primary antibodies.
This 30 minute webinar will provide detailed information on how to best utilize Cruz Markers in your research to improve detection of target proteins by Western blot, while saving time and money.
Use Cruz Markers in WB applications using both ECL and Near Infrared detection methods

Combine Cruz Markers with conjugated primary antibodies to eliminate the use of secondary reagents

Select reagents to optimize your WB experiments

Reduce the amount of time spent on WB detection

Better interpret and present WB data
To Register
Click on the time* for the date of the webinar you wish to attend from the webinar schedule below:
* Available times are shown in US Central Time, European Central Time and China Time zones; however, all time slots are open to all customers.
This 30 minute educational webinar provides an opportunity for our global audience to get together as a part of a live forum and learn about how to improve WB detection methods using Santa Cruz Biotechnology, Inc.'s Cruz Markers.

A write-in Questions & Answers period will be provided after the end of the webinar.


Santa Cruz Biotechnology, Inc. is a world leader in the development of products for the biomedical research market. Call us Toll Free at 1-800-457-3801.
Copyright © 2007-2018 Santa Cruz Biotechnology, Inc. All Rights Reserved. "Santa Cruz Biotechnology", and the Santa Cruz Biotechnology, Inc. logo, "Santa Cruz Animal Health", "San Juan Ranch", "Supplement of Champions", the San Juan Ranch logo, "Ultracruz", "Chemcruz", "Immunocruz", "Exactacruz", and "EZ Touch" are registered trademarks of Santa Cruz Biotechnology, Inc.
All trademarks are the property of their respective owners.