Antibody Exchange Program
La Santa Curz Biotechnology (SCBT) è orgogliosa di presentare il nostro nuovo Antibody Exchange Program.
Se non sei soddisfatto di un anticorpo ottenuto da un diverso fornitore siamo qui per aiutarti!Contatta il nostro supporto tecnico (o il tuo distributore locale) per identificare il miglior prodotto per le tue necessità di ricerca.Offriamo in omaggio un campione da 10 µg di uno dei nostri monoclonali confermati contro lo stesso target.
Insoddisfatto con l'anticorpo di un altro fornitore?
Saremo felici di sostituire gli anticorpi di altri fornitori, tra cui: Abcam, Thermo Fisher Scientific, Cell Signaling Technology (CST), Biolegend, Aviva Biosciences, Novus, GeneTex, AbD Serotec, Abgent e R&D Systems, ma non soltanto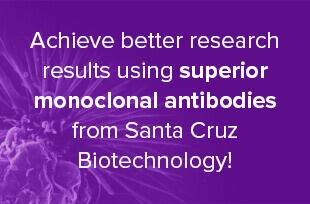 Santa Cruz Biotechnology, Inc. is a world leader in the development of products for the biomedical research market. Call us Toll Free at 1-800-457-3801.
Copyright © 2007-2017 Santa Cruz Biotechnology, Inc. All Rights Reserved. "Santa Cruz Biotechnology", and the Santa Cruz Biotechnology, Inc. logo, "Santa Cruz Animal Health", "San Juan Ranch", "Supplement of Champions", the San Juan Ranch logo, "Ultracruz", "Chemcruz", "Immunocruz", "Exactacruz", and "EZ Touch" are registered trademarks of Santa Cruz Biotechnology, Inc.
All trademarks are the property of their respective owners.